CoolSculpting: The Coolest Way to Get Rid of Fat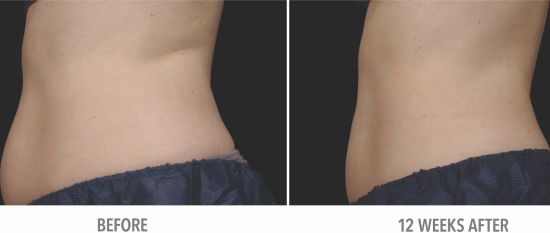 There are times when a healthy diet and a strenuous exercise plan do not produce the desired weight loss results. Stubborn fat deposits simply refuse to shift from troublesome spots such as upper arms, thighs, or the waist. But now an easy remedy is available to counter this problem. You can now opt for CoolSculpting treatments to get rid of unwanted body fat.
What is CoolSculpting?
CoolSculpting is a treatment that freezes fat cells and permanently destroys them. It has been approved by the FDA to use on various body parts such as the abdomen, flanks, thighs, upper arms, and chin.
The treatment involves use of a safe device to deliver cooling at the treatment site. A gel is applied before using the device on the skin. The cold temperature freezes fat cells without destroying adjacent tissues or other cells. The frozen fat cells eventually are destroyed and removed from the body through the elimination process. As the fat cells leave the body, the treatment site becomes slimmer and more sculpted than before.
Eliminating Fat in the Coolest Way
CoolSculpting is a way to remove unwanted fat from the body quickly and efficiently. You can get a sculpted body after one or multiple CoolSculpting sessions depending on your requirement. Usually one treatment is enough to remove 20-25% fat from one area. You will see improvements for weeks after the treatment as fats cells will leave the body. After a few months, you will see remarkable results in the treatment area as all the destroyed fat cells are eliminated.
The results from CoolSculpting look natural as the destroyed fat cells leave the body over a few weeks. The results are also permanent if you maintain your optimum weight. The fat cell elimination process is permanent. The damaged and eliminated cells are gone for good. The body doesn't replace destroyed fat cells with new ones.
CoolSculpting is completey safe when performed by qualified medical professionals. The CoolSculpting device comes equipped with a system to deliver optimum temperature on the treatment area. The sensors in the device detect temperature changes and shut it down in case your skin is excessively cold.
It is a gentle treatment that produces no serious side effects. It is a painless procedure and you may experience only a gentle tugging on the skin as the device works on the treatment site. You may experience some redness or numbness in the treatment area. But these side effects do not last longer than a few days. The treatment is so comfortable that you can nap, read a book, or simply relax while the doctor/clinician works on your body.
It is a noninvasive treatment that requires no anesthesia and incisions. So, you don't need to worry about surgical complications or a long recovery time. There is no downtime associated with CoolSculpting. After your treatment sessions, you can resume your normal everyday routine without requiring any rest.
Maximizing the CoolSculpting Benefits
To achieve best results from CoolSculpting, it is imperative that a qualified medical professional performs the procedure. Look for a reputed clinic in your area. A simple online search such as CoolSculpting in Port Charlotte can provide you with good results. Consult with the doctor in reputed clinics in your area to know about their experience and expertise in performing CoolSculpting procedures. The efficacy of the treatment depends on a lot on the expertise of the provider.
If you are pregnant or breastfeeding then you will need to wait before you can opt for CoolSculpting. If you have any skin infection or disease then the doctor will recommend a time for the treatment after your recovery. The doctor will inform you about the procedure steps, potential side effects that are temporary, and any precautions you may need to take depending on your health or medical history.
You can also opt for CoolSculpting treatment for more than one body part at the same time. So, be sure to discuss your expectations from the treatment with the doctor during your consultation.
 If you have tried to lose unwanted fat unsuccessfully or are simply looking for an easier alternative to achieve a slimmer body profile; CoolSculpting may be just right for you.