Eight Questions to Ask When Selecting a Pediatrician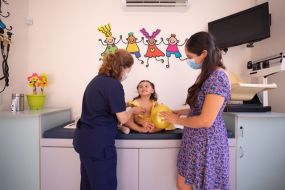 Whether you are pregnant or already have a child, selecting a pediatrician is quite necessary for you. Meanwhile, choosing a pediatrician is indeed a highly complex task and a decisive step. So, you can't take it lightly. Pediatricians in Jacksonville are necessary for caring for your children right from childhood to adulthood. So, you need to spend enough time to find the right practitioner who can match your specific needs by caring for your child as per your expectation.
A pediatrician not just cares for your children but also works as your advisor and partner. So, you need to find a reliable person possessing a good track record and who has never been involved in any illegal practices. We are going to discuss here several questions that you need to ask your pediatrician while choosing them.
1. What is your overall experience as a pediatrician?
The experience of the pediatrician assures you of quality treatment. So, you should not hesitate to ask them if they have enough experience to match your expectation.
2. Are you certified by AAP (American Board of Pediatrics)?
Since you need to choose a certified pediatrician, it's important to ask your pediatrician if they are certified by AAP, which is a recognized body in America. You need to finalize a pediatrician only if they are certified by this body. A certified pediatrician possesses the necessary skills and experience to match the quality of world-class service.
3. Have you ever practiced in a group?
If you find a doctor who is in solo practice, you need to ask them if he ever practiced in a group as it reflects their coordination skills. If the pediatrician practiced in a group, you need to ask them about the details and background of the group, and also other doctors.
4. What is the name of the hospital you practiced in and its affiliation?
It's good to ask them to provide complete details about the hospital where the pediatrician practiced. Once you get details about the hospital, you should never forget to check their affiliation. If you find the hospital is recognized by the authorized body to assure you of they are a genuine practitioner.
5. What are other services your pediatrician covers?
Some pediatricians differentiate themselves from others by offering various other services. They often work with clinicians possessing a wide area of expertise. So, it's advisable to ask what other types of services your pediatrician offers to serve you. It's good to ask them if they offer any coaching for behavioral health. Besides, the majority of these practitioners nowadays offer services like virtual visits, which have become a popular option nowadays. It provides convenience for both pediatricians and patients and is also good for safety purposes. It's also crucial to check if the pediatrician has an onsite lab
6. What are your working hours?
It's necessary to know the complete working hours when you hire any pediatrician. Once they provide you complete details in this arena, you should find out if their working hours are convenient for you even if you consider weekends. Find out if your pediatrician works on Saturday as it helps you visit them if your child falls sick on weekend. The main purpose of knowing the working hours of your pediatrician is that you can easily approach and visit them without any hassle.
7. Will you be able to manage comfortably my child's condition?
This is another important question that you need to ask especially if your child is suffering from any particular condition. You need to provide every detail about the disease of your child to your pediatrician and ask them their plan to manage it. You should also ask them if they have cured any child with a similar condition. You need to ask if they have managed the patient with complex situations comfortably.
8. What's your thought on a particular topic?
You can of course expect good advice from your pediatrician on several topics such as antibiotic use, breastfeeding support, and many more. So, you can ask them about their thoughts on these topics.