Heal Faster after Knee Replacement Surgery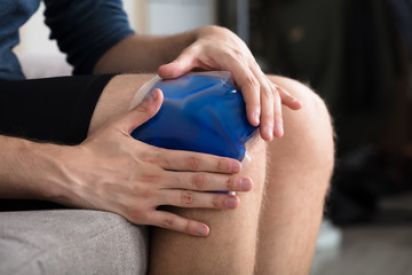 For cold therapy, you don't need to bother with messy ice bags or frozen pea packets that melt and drip. Safer alternatives for cold therapy are now available.
Cold therapy is helpful for speedy recovery after knee replacement surgery. But use of ice or frozen pea bags can't deliver optimal cold therapy. You can instead use an ice machine for knee recovery.
Cold Therapy after Knee Replacement Surgery
Cold therapy provides relief from pain and swelling on knees after surgery. Without swelling, it is easy to regain movement in knees post your surgery. Lack of swelling also speeds up the natural healing abilities of the body. Speedy recovery due to cold therapy can also mean fewer physical therapy visits. It can not only mean faster relief from pain but also reduced cost of medical care.
Cold therapy reduces the need for pain medication. These medicines only temporarily provide relief from pain and are not recommended for long-term use. Pain relievers also do not help with the recovery process. They are prescribed simply to increase comfort of patients after surgeries. Excessive use of pain medication can cause dependency on the drugs and it can then lead to other health problems. With cold therapy, you can speed up recovery with faster healing of tissues and drastic reduction in pain.
Cold therapy is a popular recovery method after orthopedic surgeries or injuries. It is traditionally administered with ice bags. Now, you can use ice machines for knee rehabilitation after surgery.
Your doctor is likely to discuss your rehabilitation plan before you are scheduled for surgery. Depending on the severity of the damage in the knee joint, your doctor will plan your recovery and rehabilitation options.
Some sort of physical therapy is always a part of the rehabilitation process after orthopedic surgeries. Doctors also recommend cold therapy to speed up post-surgical recovery. Your doctor is also likely to discuss if you will receive cold therapy through a physical therapist in a hospital setting or at home. Due to ease of use and convenience, many patients prefer to administer cold therapy at home using ice machines.
Cold therapy helps patients after knee replacement by healing the area thoroughly. Major orthopedic surgeries can put a lot of strain on the surgical sites. If post-surgical healing is not proper then it can impede your rehabilitation program. There are also no side effects of cold therapy. When used with the help of quality ice machines, cold therapy can be used for prolonged periods without any problem.
Using Cold Therapy Machines on Knees
The best percussion massager or Ice machines for knee recovery are safe to use even after major surgeries like knee replacement because it produces no condensation. Moisture in any form poses a risk of infections on injury and surgical sites. Unlike melting and dripping ice bags, there is no such problem when you use ice machines.
Cold therapy unit can also speed up recovery as they are designed to offer optimal healing. Cryotherapy machine comes with therapeutic pads that you can wrap around the knees which allows cold to seep into the knees from all sides. The pads are designed to circulates cold water continuously on the surgical site.
It is very convenient to use ice machines for knee recovery after surgery. Cold therapy units are easy to fill and use due to their simple design and mechanisms. After filling the machine with cold water and ice, you just need to plug in the device to initiate the circulation process. The water temperature is optimal enough to heal the surgical site but prevent any burns from the cold. Due to steady water movement, the healing of the knees is efficient and quick.
Due to the ease of using ice machines for knee recovery, people are also better able to adhere to the healing regimen of cold therapy.